Letter from the Principal:
03/06/2020
Hi Boys and Girls,
If you think last week's video cast was good wait until you see this week's, http://www.tiny.cc/9j18pz
I loved all the videos and pictures some of you sent in. I'm hoping to build my own trampoline tent this week!
Our Active Flag Pole arrived last week: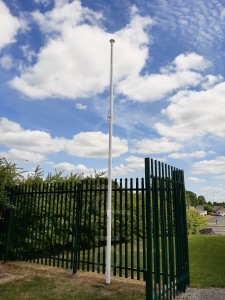 When we are all back in school Ms Harty and the Active committee will organise a big celebration to hoist our flag.
Stay Safe, Wash Your Hands.
Chat soon,
Ms O'Connor.
Dear Parents and Guardians,
One request this week for the 50% of you who haven't signed up for Aladdin Connect, please do so today! I will be using Aladdin Connect to send your children's report cards very shortly.
THis week's video cast can be seen at  http://www.tiny.cc/9j18pz  Again a huge thank you to Ms Laura Heavey whois working hard behind the scenes to organise this project.
As always please feel free to contact me should the need arise.
Le gach deah ghuí,
Caitlin O'Connor.