Currently displaying the latest from
Active School Week
Posted by:
Ms. Elwood
| Posted on:
April 29, 2020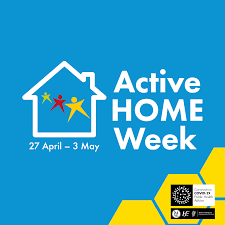 Well done to all who have been participating at home and trying to do some physical activity each day! Click here for activities to try from your child's teacher.
A few follow up pieces of additional information:
#ActiveHomeWeek CERTIFICATES:
 If your child has been taking part and you would like your child's teacher to send him/her a certificate by email, please email your child's teacher and we will be happy to do so!
SHOUT OUT for #ActiveHomeWeek Videos (RTE Home School Hub EXTRA):
RTE Home School Hub EXTRA would love to receive videos from children from all parts of the country showing how they got active during #ActiveHomeWeek.
 Their aim is to show as wide a variety of activities as possible:
Taking on TEACHER Challenges – Beans Can Stacking/Toilet Roll Challenges/Bin Challenges
NEW skills – Juggling/Skipping/Gymnastics etc.
DANCE-  The Foot Shake Challenge, Ballet etc.
FAMILY Fitness – Activities where other members of the family join in as well
INDOOR Fitness Activities – Active Board Games, Active Spellings/Maths etc.
How to submit:
20-30 seconds video (no longer)
When videoing it's really important to hold the camera SIDEWAYS
Begin with child/children introducing themselves (first name/school/county) before their activity begins
Go to www.rte.ie/learn
Click on the RED button called 'Share Your Content with Home School Muinteoirs'.  (just above the 1st/2nd class section).
Complete the short online form and send your video – it's a very easy process.
Submit by Friday 1st May at 12pm.
The videos will be aired as part of the RTE Home School Hub EXTRA programme on TUESDAY, May 5th
RTE Home School Hub promise that they will look through every video that they receive but advise, if large numbers of videos are received, they will only be able to play a selection of them.
Fingers crossed we'll see our school represented on next Tuesday's show!
WHAT IS ACTIVE HOME WEEK?
Our school has been awarded with an Active Flag by the Department of Education and Skills because of its commitment to promoting and encouraging pupils to be more active and healthier with a wide range of annual activities. Active Week is always a special week in our annual school calendar. This year our Active Schools Committee has replaced Active Schools Week with Active Home Week, as part of the Department of Education and
Skills and Healthy Ireland Initiative. The aim of this initiative is to motivate young people to keep active by trying out NEW activities, taking on CHALLENGES and HAVING FUN with family activities. To complete this year's challenge, children have to find different ways of being active each day, making sure it adds up to 60 minutes or more of physical activity daily.
Teacher have posted ideas about how to keep active at home by providing opportunities to bring more physical activity into daily routines. We hope that the week will re-inforce the message that physical activity is not only good for you but it is also very enjoyable as a family activity. Check out twitter activities including GAA skills training with coaches from both Sarsfields and Moorefield as well as other keep-fit ideas posted online. We hope you all stay SAFE, have FUN and most importantly keep ACTIVE.